Beyond Our Doors

Ministry

The purpose of the Beyond Our Doors ministry at CBC is to carry the presence of Jesus to the community through expressions of love, grace, and the verbal gospel!

We do this through projects of our own design and initiative as well as by partnering with existing ministries outside of CBC. Below are a few examples of both!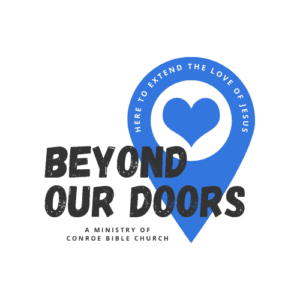 Parmley Elementary
We want to share the love of Jesus with the students, teachers and parents of Parmley Elementary in Willis, TX!
Two years ago our Local Missions Team decided to "adopt" a school campus in our area! Our first year of bringing the presence of Jesus included Teacher Encouragement Bags, a school garden project, back to school work days, providing teacher breakfasts, a prayer box and including Parmley kids in our Giving Tree!
If you have a heart to join in the fun contact Matt Ward or look for the next Parmley Project as they come up!
Cookie Ministry
We are on a mission to brighten the lives of others with cookies!
The "Cookie Ministry," as they enjoy being called, serves the 1st Responders in the community (Police Departments, Fire Departments, Ambulance Services), and Parmley Elementary School. Once a month, each of the people involved will bring 2 dozen cookies along with a Thank You card and the gospel message.
We are genuinely grateful and appreciative of all they do for the community and the family of believers here at CBC are praying for their safety and protection.
Pregnancy Assistance Center North (PACN)
We partner with PACN who purposes to provide hope and assistance to moms and pregnant woman at risk.
Every year we gather baby supplies to deliver to PACN. We also often hold work days to help organize their donations or clean up facilities. If you would like to serve at PACN contact: https://www.pacn.org/
Mission Conroe
We partner with Mission Conroe as they serve children and families of Belshire Apartments in Conroe.
Mission Conroe holds "church" for the kids and families of Belshire Apartments every Sunday morning! Our students have joined with other church youth groups to put on a Back Yard Bible Club and our college students have delivered gifts from our Giving Tree! We also partner with them in their Back To School Bash each August. If you would like to help Mission Conroe reach kids for Jesus on your own, contact: https://www.facebook.com/MissionConroe/
The Giving Tree
We partner with Parmley Elementary and Mission Conroe to provide a Christmas gift to local kids who might not otherwise have a toy to unwrap on Christmas morning.
The Giving Tree goes up each year during the week of Thanksgiving and the unwrapped gifts are due back within two weeks. You can "adopt" an ornament which will tell you all you need to know to bring joy to a child's life!
Under Over Fellowship
We partner with Under Over Fellowship who purposes to serve the Conroe area homeless and marginalized.
Look for opportunities to join in as we partner with Under Over Fellowship through food drives, work days and providing meals for the residents. Join a Small Group! Our Small Groups partner with Under Over Fellowship by serving meals. Donate Food! We will provide food donation bags at times or you can simply let us know if you wish to donate food toward their food pantry. Contact Under Over! Several people from CBC have taken the initiative to contact Under Over directly to find a place to serve: https://www.underoverfellowship.com/
All The King's Horses
We partner with All The King's Horses who purpose to reach at risk kids and teenagers through horse therapy and riding.
All The King's Horses is a unique local ministry that uses horses to communicate life skills and the gospel to at risk kids! We partner through work projects and serving at their fundraisers. We have also had several families who have committed time to serving in their camps and weekly outreaches. If you would like to learn more contact: https://allthekingshorses.org/