Under Over Ramen Noodle Drive!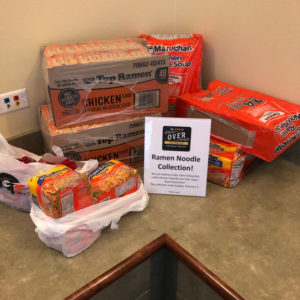 We love to partner with Under Over Fellowship as they seek to reach the homeless and marginalized in our community. Recently they announced a fun contest related to the upcoming Super Bowl. They are organizing their own "bowl" but it is a bowl of noodles! They hope to collect at least 1,000 bowls of Ramen Noodles to distribute in their food bank by Super Bowl Sunday, and so we have been doing our part to collect as much as possible before Sunday, February 2.
But the fun doesn't stop there, now they have turned it into an all out competition with a custom wood engraved plaque for the person or organization who turns in the most Ramen. I don't know how other churches are doing, but it is exciting to see CBC get behind our local mission partners as the pile of Ramen Noodles grows in the lobby. I look forward to delivering our collection on Super Bowl Sunday!